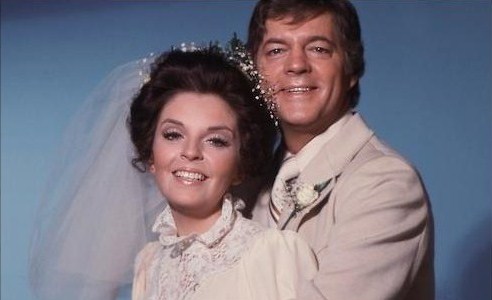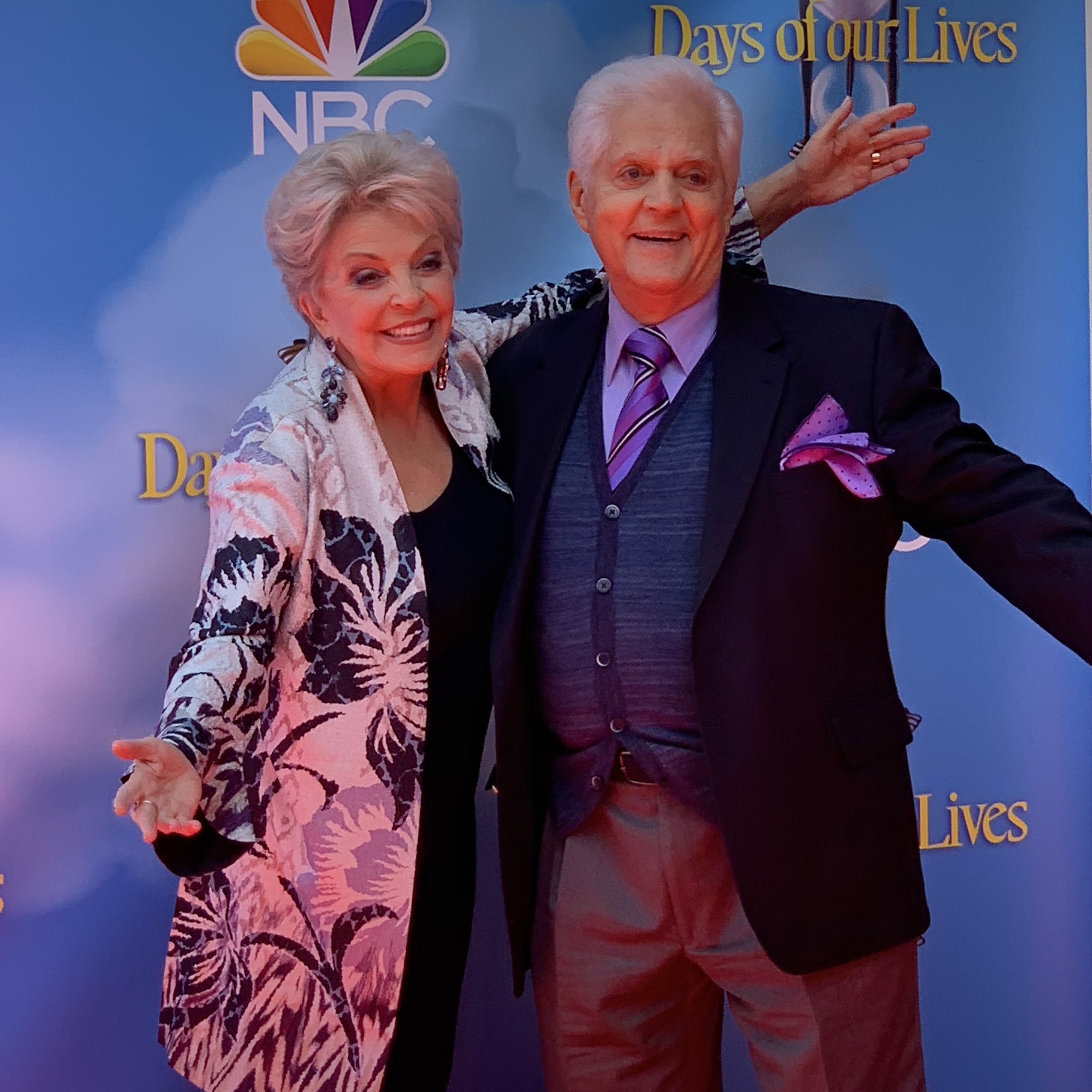 49 years and the love only grows stronger!
CLIP OF DOUG & JULIE'S 1st TV WEDDING FROM OCTOBER 1, 1976... here
Thank you, Jason 47 and Twitter.
Day of Days!
Watch the interview here.
News: Susan Seaforth Hayes Celebrates GRAND Milestone!
from Soap Opera News


We are thrilled to recognize today, one of the daytime industry's best - Susan Seaforth Hayes for her years of outstanding service to the genre. On this day in soap history in 1968, Hayes stepped into the role of Julie Williams on 'Days of Our Lives' replacing Catherine Ferrar. 52 years later, still being a part of the daytime business, acting in a recurring capacity on 'Days', Hayes continues to show us why we grew to love her so much. She not only displays a wide range of talent on screen but shares an undeniable chemistry with Bill Hayes' Doug which is so enjoyable to watch and ironically he is her real-life husband. Throughout her career she has marked several incredible moments, being the first super-couple in the history of daytime along with Doug Williams. Her character was often the subject of the press during her run on the NBC daytime soap. She has also received several Daytime Emmy nominations being the only actress on the show to receive so many nominations. As the half-sister of Hope Brady (Kristian Alfonso), Julie is often tied in the mix of things, and also as a core family member, she's often in the mix of things in the present day happenings on the daytime drama. What a great 52 years it has been, such a wonderful journey and something worth remembering as we look back at the fantabulous character of Julie Olson Williams.
Happy 52nd anniversary Susan! Susan (July 11, 1943) is an American dramatic actress. She is best known for her portrayal of Julie Williams on the NBC drama Days of Our Lives, and her intermittent portrayal of Joanna Manning on the CBS daytime drama The Young and the Restless. She began playing the role of Julie Olsen Williams on Days of Our Lives in 1968, and is the only actor to appear on the show for all seven decades (1960s, 1970s, 1980s, 1990s, 2000s, 2010s and 2020s) in which it has been on the air. Seaforth Hayes still regularly appears on Days as Julie. For her work on Days, Seaforth Hayes has received four Daytime Emmy Award nominations for Outstanding Lead Actress in a Drama Series, in 1975, 1976, 1978, and 1979; and two nominations for Outstanding Supporting Actress in a Drama Series, in 2018, and 2020. On April 29, 2018, the National Academy of Television Arts & Sciences presented Bill Hayes and Susan Seaforth Hayes with Lifetime Achievement Awards at the 45th Annual Daytime Emmy Awards. She was voted Best Actress in Daytime TV's Annual Reader's Poll in 1976, 1977, and 1978. Additionally, in 1977, she won two Soapy Awards for Actress of the Year and Favorite Heroine. She was awarded Photoplay Gold Medal Awards in 1977 and 1978, for Favorite Daytime Female Star.

Did you know: Susan Seaforth Hayes, the second longest-serving actor currently on the program, is the only cast member to appear on Days of Our Lives in all seven decades it has been on the air, having made her first appearance in December 1968 as a recast of original character
Julie Olson?
NATAS PRESS RELEASE
The National Academy of Television Arts and Sciences (NATAS) proudly announced that Bill Hayes and Susan Seaforth Hayes, stars of television, film, and stage were honored with Lifetime Achievement Awards during the Daytime Emmy Awards celebrated at the 45th Daytime Emmy Awards. Presentations took place at the Pasadena Civic Auditorium in Southern California.
I've been star-struck by the dynamic duo of Bill Hayes and Susan Seaforth Hayes for decades, said David Michaels, SVP, Daytime Emmy Awards, NATAS. The scope of their work across the television, film, and stage landscape is amazing. Their continuing roles of almost 50 years on Days of Our Lives, where they also met and married, is a Daytime story like no other!"
(We would have to agree!)
Bill Hayes burst onto the national television scene in Olsen & Johnson's 1949 madcap series Fire-Ball Fun-for-All. From there he was tapped to be a featured singer on Your Show of Shows starring Sid Caesar and Imogene Coca (1950-1954).
Bill made his Broadway debut in Rodgers & Hammerstein's Me and Juliet (1953-1954) and followed with a gold record for 'The Ballad of Davy Crockett' (over 4,000,000 sold; still selling!), acclaimed Best Record of 1955.
Hayes's feature films: the Warner Bros. farce "Stop! You're Killing Me" (1953), Otto Preminger's "The Cardinal" (1963), and the award-winning "Wrestling with God" (1989).
He was the national spokesman for Oldsmobile for four years (1956-1960) and took "Bye Bye Birdie" on its one-year national tour (1961-1962).
Growing up with television, Bill's early career glittered with a variety of TV performances, including: Kate Smith (1956, 13 episodes), Ed Sullivan (1953), Perry Como (1955), Milton Berle (1955), Ernie Kovacs (1956-1957, 19 episodes), Patti Page (1957, 6 episodes), Jo Stafford (1958), Jack Paar (1957), Bing Crosby (1958), and the Bell Telephone Hour (1959 & 1960). In addition to singing and dancing, he starred as a straight actor in such dramatic shows as U. S. Steel Hour (1957), Hallmark Hall of Fame (Yeomen of the Guard-1957 & Kiss Me, Kate-1958), Carol Burnett's Once Upon a Mattress (1964).
Theatre tours included Student Prince, Anything Goes, Camelot, On a Clear Day, Pajama Game. And, in addition to the Broadway revival of Brigadoon (1968), Bill's considerable regional theater appearances included On the Town, Of Thee I Sing, Merry Widow, Miss Liberty, Music in the Air, Tree Grows in Brooklyn, South Pacific, Out of This World, Fanny, Dark of the Moon, Good News, Oklahoma!, Girl Crazy, Who Was That Lady?, Where's Charley?, Foxy, Sunday in New York, Green Grow the Lilacs, She Loves Me, Moon is Blue, Fantasticks, Carousel, Song of Norway, Desert Song, Guys & Dolls, George M!, and more! His list totals over 100 musicals and 30 straight plays!
Since 1970, Bill Hayes has portrayed 'Doug Williams' on NBC's Days of our Lives (2,085 episodes to date!), garnering two Emmy nominations and several Best Actor Awards.
Bill also appeared as a regular on Hollywood Squares and as a talk-show guest with Johnny, Phil, Dinah, Merv, Geraldo, Regis, Oprah, and Martha.
In the 90s, Bill guest-starred on Matlock, Hooperman, and Cop Rock, Frasier in 2002. His 1992 stints with Ann Blyth at the Dunes in Vegas and Rainbow and Stars in Manhattan drew raves from the critics (Not only does Hayes still belt 'em out, but he can also tap!)
More recent stage work: Amadeus (1985), 42nd Street, and Same Time Next Year (1987), La Cage aux Folles (1988), Harvey (1989), Oliver! (1993), Damn Yankees (1995), I Do, I Do (1986, 1996 & 1999), Glad to Be Unhappy (2000), Mame (2002-2003), I Remember You (2005), Follies (2007), and Chicago (2008).
Bill headlined The Palm Springs Follies in 2004 and in the same year, released his CD titled 'This is BILL HAYES. In 2005 he co-authored their memoir with wife Susan Seaforth Hayes appropriately called, Like Sands Through the Hourglass. In December '09-January '10, Bill was paired with jazz-great Dick Hyman for a series of concerts in The Musical Magic of Hayes and Hyman. He and Susan once again joined forces and penned the critically acclaimed historical novel, Trumpet, published in 2012. At this time, the sequel Jubilee is in its final editing process.
Bill has three degrees: Bachelor of Arts (DePauw University, 1947), Master of Music (Northwestern University, 1949), and Doctor of Education (West Virginia University, 1998).
Susan Seaforth Hayes is a professional actress by trade and historian by desire. Her degree from Los Angeles City College is in history and the stack of books on her desk reflects an intense interest in the American West, European history, art history, and Native American cultures. Had she not been so talented an actress she probably would be teaching or writing history books today.
Ultimately, Susan was destined to spend her life on stage and in front of cameras. Her initial theatrical experience was at the age of four, playing "Trouble" to Dorothy Kirsten's "Madame Butterfly" for the Metropolitan Opera Company. At age eleven, she toured a year with Billie Burke in Mother Was a Bachelor and as a developing teenager, she honed her crafts in the exciting world of television: Matinee Theatre, Lassie, Eve Arden, Wyatt Earp, Loretta Young, Danny Thomas; and films: Five Pennies, Angel in My Pocket, Billy, California.
While Susan plugged away at her college studies interspersing classes with film, TV, and stage work, she mastered comedy and drama on TV's Dragnet, FBI, Death Valley Days, Bonanza, Hallmark Hall of Fame, My Three Sons, Fugitive, Hawaiian Eye, 77 Sunset Strip, Man from UNCLE, Wagon Train, Perry Mason, Emergency, Adam-12, and Ironside. She also gained stature in live performance on stage in Come Blow Your Horn, Mary Mary, Time Remembered, and Ring Round the Moon.
When she was cast again and again in the exciting/demanding world of TV soaps, Susan was finally forced to curtail her academic work. Young Marrieds (2 yrs), General Hospital (1 yr), The Young and the Restless (5 yrs), Sunset Beach, and fifty-two (yes, 52!) years on Days of our Lives put a serious dent in her classroom attendance. The sudsy genre produced four Emmy nominations, several Best Actress Awards, a Time Magazine cover, many years of Top-Ten Lists in fan-mags, and even a husband when Susan Seaforth married her Days co-star Bill Hayes in 1974.
Some of her activities that have not involved performing include serving on the board of the Screen Actors Guild, addressing the House Judiciary Committee and the Republican Platform Committee, docenting at the Autry Museum of Western Heritage, and serving as an Elder and Board Member of the First Christian Church of North Hollywood. She has also lectured at Los Angeles Valley College on Native American religions and Boston University on acting for television.
The sweep of her credits in film, stage, and television include Oklahoma, The Two of Us, I Do, I Do, Same Time Next Year, Harvey, Matlock, Heartbeat, Dream Machine, Wrestling with God, 42nd Street, Social Security, Mame, and a 1993 13-week tour of Oliver in Florida, Singapore and Kuala Lumpur! In the 90s, Susan wowed Birmingham audiences with her "Mama Rose" in Gypsy, toured "Love Letters" extensively, played the wily "Mrs. Rubinstein" on TV's Platypus Man, and charmed West Virginia Public Theatre fans in A Christmas Carol and Cinderella.
In 1997, Susan co-starred in the premiere of Bernard Slade's sequel play Same Time Another Year, and in the spring of 1999, she created the role of District Attorney Steele on NBC-TV's Sunset Beach. In 2007, she sang "I'm Still Here" in Follies and added Funny Girl to her credits in 2008.
Her memoir Like Sands Through the Hourglass was published by Penguin-Putnam in 2005 and enjoyed robust sales. She and her husband published their first historical novel, Trumpet, in 2012.
Presently, Susan continues to add her personal spice to the role of 'Julie' on Days of our Lives! Please accept our love and congratulations!!
Watch Bill on the Jimmy Fallon show here!
Bill was a member of the audience when his grandson stood and introduced him to Jimmy Fallon during a commercial break. Watch what happens!


Photo courtesy People.com
It's finally here!!
"The World by the Tail" starring Bill Hayes.

Lee Levin, Producer and Director, says: "Hey everyone, it's finally here. "World by the Tail", the much anticipated Bill Hayes movie I produced directed and edited is now live here . Thanks to my crew Man Doses Oscar Lobo David Eagle Jefferson Kerr Loftfield and all the talent involved. A special shout out to Bill Hayes, Susan Seaforth Hayes, and my executive producer David Samuel. Thank you to Justin Massion for all your online work! It's a really great story about one of the most wonderful people alive. I am so blessed to have spent so much time with Bill. I hope you enjoy his stories as much as I have."
Bill Hayes said, "Lee, thank you for doing this! You are a fine movie-maker, and I love what you've done with the snippets of my life!
Thank you, thank you!"
Susan is mentioned on "10 Best Days Actresses" on Fame 10!
One of the longest-running actresses on soap operas today, Susan made her DOOL debut in 1968. As a super couple trailblazer, Julie Williams might be best known for her love affair with Doug Williams and her mother-daughter relationship with Hope, her half-sister. Seaforth has not only snagged multiple accolades for her portrayal of Williams over the past four decades including four Daytime Emmy nods in the Lead Actress category in 1975, 1976, 1978, and 1979.
The ultimate 'prize' was her real-life love affair with Bill Hayes (DOOL'S Doug Williams). The two got married in 1974 and have enjoyed a successful 46 years as husband and wife.
Click to watch Bill's church family sing Happy Birthday to him!
A short, but wonderful, interview from Bill and Susan during a recent appearance!! Click here!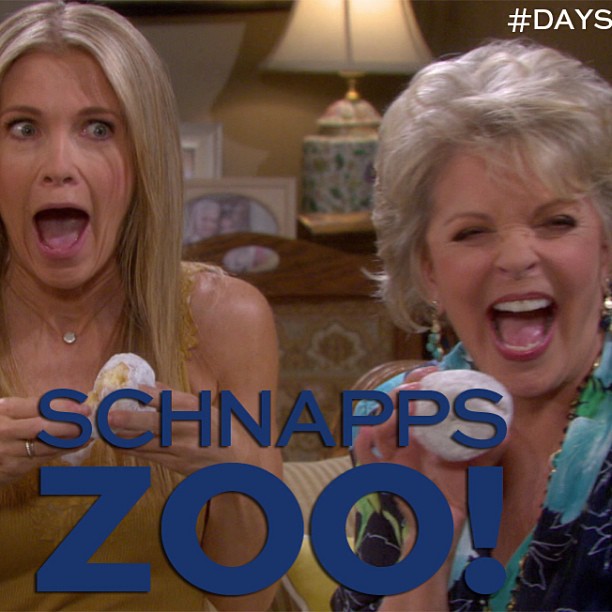 Hilarious Episode
The Book Club and their marijuana-spiked doughnuts were priceless! There should be more fun like this and Julie should definitely be a regular, along with Doug!
Watch Susan give Suzanne a lovely tribute
in celebration of her 40 years on Days!
Gotcha!
Susan catches Bill studying lines in their dressing room!
Turnabout is fair play!
We Love Soaps.net has ranked 50 Greatest Soap Couples:
#2 Doug & Julie From DAYS OF OUR LIVES!
COUPLE: Doug Williams & Julie Olson
SHOW: DAYS OF OUR LIVES
RANK: 2 (Well, of course, if it were up to us, they would be #1!!!!)
PLAYED BY: Doug: Bill Hayes
Julie: Susan Seaforth Hayes
YEARS: 1970-present (with some years off starting in 1984)
STORY:
Doug was a con artist who met Bill Horton in prison in 1970. When Doug was released, he came to Salem to find Susan Martin (Denise Alexander), a widow with money Bill had spoken about. Susan ended up hiring Doug to come between Scott Banning and his girlfriend, Julie. Doug and Julie had an instant rapport. Doug took a job as a singer at Sergio's and fell for Julie. Doug's real identity was orphan Brent Douglas and this helped him form a bond with Julie's mother, Addie Horton Olson (Patricia Barry). After a fight with Julie over her son, David, Doug went to Addie's and she proposed to him. He accepted and the two of them were married. In 1974 they had a daughter together, Hope. After surviving leukemia, Addie died after being struck by a car pushing Hope's carriage out of the way just in time to save her daughter. Eventually, Julie, who had married and divorced Bob Anderson, reunited and the two of them married in a beautiful ceremony in 1976.
Over the next few years, Doug and Julie would face many obstacles including the loss of Doug's Place (formerly Sergio's), Julie's rape and eventual trial for the murder of her rapist, and Julie being disfigured in a fire on Maggie's farm. The latter led her to divorce Doug but the two of them remarried in 1981 after Doug ended his marriage to Lee DuMonde. The following years saw the couple deal with titanium deposits, a grown-up and rebellious Hope, and another divorce and remarriage! In the past decade Doug was "murdered" by the Salem Stalker but, like the other victims turned up alive. In 2016, they are still happy and together.
IMPACT:
The couples in the countdown all shared chemistry but there was something extra special about the Doug and Julie dynamic. Fans would find out later, Hayes and Seaforth had actually fallen in love and married in real life.
The couple was featured on the cover of TIME magazine in the January 12, 1976 issue, a first for daytime soap opera. Popular industry magazine, Daytime TV, wrote about the cover: "It was almost inevitable that when TIME was looking for the actor and actress who personified the power of the daytime serials, it just had to choose Bill and Susan." The magazine also called them "Daytime's First Royal Couple."
Bill Hayes explained further in a 2009 Mental Floss feature: "In 1974, Susan and I got married in my living room with 16 people. In 1976, when Doug and Julie got married, we had 16 million people."
The actors' personal story and the long wait for Doug and Julie to finally marry brought DAYS OF OUR LIVES and Daytime much publicity in the 1970s. When Doug and Julie finally married for the first time, women all over America threw wedding parties that day to celebrate. DAYS also maintained a 30 Nielsen ratings share through 1976.
The foundation of Doug and Julie's love story was crafted by Bill Bell, one of his many contributions to the countdown.
Bill Hayes was nominated for two Emmy Awards, in 1975 and 1976. He won a Soapy Award as Outstanding Actor in 1977, the same year Susan Seaforth Hayes was voted Outstanding Actress. Susan was nominated for Emmys four times from 1975 to 1979.
From Patrick Erwin (A THOUSAND OTHER WORLDS): Daytime's answer to great silver screen couples. Doug and Julie's story played out like a matinee movie, grand but seldom over the top. The fact that Bill and Susan Hayes were falling in love along with Doug and Julie made it all the more believable.
SOD's 20 most memorable duos in Soap Opera History named on Twitpic
Watch Bill sing "I'm Too Sexy" here!
__________________

See a short clip featuring Doug and Julie rehearsing here!
__________________
Here are some clips from a recent interview that Bill & Susan did with Lifestyle Magazine's Mike Tucker. Such beautiful people, inside & out!
Bill and Susan Appeared at the Romantic Times Booklovers Convention in Downtown Los Angeles...how appropriate!
Then, someone asked them to sing!
Of course, they obliged!!
Click here to watch Bill sing "Wand'rin'" in May of 1950 on Your Show of Shows! What a magnificent voice!!
Diva Interview with Bill and Susan Seaforth Hayes (Doug and Julie of DAYS) discussing their books, the Frances Reid Memorial, and more!

Bill and Susan were on hand for WVPT's 25th Anniversary and Grand Opening of their new home in the new Morgantown Event Center! Watch their comical congratulations to WVPT below!

Read Susan's review of
The Musical Magic of Hayes and Hyman!
These two gentlemen of music first worked together in the nineteen fifties on variety shows and recordings. Dick has been a very top pianist of the jazz scene in America and internationally for decades; with literally thousands of recordings and concerts to his credit. He is also married to a wonderful lady named Julia who happens to be a sculptor in stone. Together they are the quintessence of talent, polish, experience, and charm.
Bill and Dick put their show together by E-mail and telephone, exchanging ideas for months and trying to downplay the fun they were having. Their producer Bob Turoff of the Golden Apple Dinner Theatre in Sarasota, Florida, gave them free rein to create and added a few golf jokes when they began rehearsals in Florida. Dick lives twenty minutes away from the theater and we were eager as ever to work in our favorite town. Mr. Turoff built an arching keyboard with a ribbon of lights to frame the stage where a glossy black Yamaha grand sat in splendor before a glimmering curtain. Two potted palms stage left and right, two silver-haired artists in tuxedos and you have the picture.
Bill composed special material for the New Year Theme which they opened with, as the audience, very intimately seated around them on the thrust stage settled down to listen. But not for long. Almost every time Bill offered a popular old song, the customers joined in. Dick had stories to tell of the origin of such famous recordings as "Mack the Knife", (on which he played and whistled) and played spellbinding piano solos. I especially loved the music he composed in tribute to Bix Biberbeck a 1920's musician. The tunes were positively haunting. Bill did his smashing rock and roll medley. One night Julian Bond was in the house, yes the great civil rights hero, that Bond, and had to tell us how much he loved it. He invited Bill to come to his lecture on the roots of rock and roll. And we did!
Bill tap-danced, sang ballads and surprises "I don't want her, you can have her, she's too fat for me," and Dick got laughs with the golf jokes. In the second act, the ladies of the first row got to be twirled around by my darling to some Shakespeare ditties, a cluster of hopeful songs including "Somewhere Over the Rainbow". Then Dick performed his fabulous be-bop rendering of "How High the Moon" and they closed the show with Bill's gorgeous Soliloquy from Carousel, always so heartfelt. One night his real boy Bill, William Foster Hayes IV, was at a table close with all our children. The encore was, of course, "Side by Side", with Billy at the keyboard and Dick singing full out. On many nights family and friends joined us, I made the opening announcements a few times and the air was heavy with gmitlich for all the shows. As we always do, Hayes and Hyman met the audience in the lobby afterward to say thank you for coming and snap a few pictures of special friends. Don't you wish you had been there? (Do we ever!!)
After the first rehearsal, I heard Bob Turoff say to his wife Roberta, "I never want to forget this moment, these guys are so professional, so wonderful." And you know what? Bob was right!
From her home in California, still enjoying the glow,
Susan Hayes
Wife and Fan
Thank you, Susan, for the terrific review!!
What the critics said:
"Once-in-a-lifetime experience.. "
" One of the most entertaining shows ever seen in the area. "
"The Hayes and Hyman show at Sarasota's Golden Apple Dinner Theatre should be preserved on Biography on A&E."
- Kim Cool, Venice Gondolier
Featured two of the most renowned performers of our time, song stylist Bill Hayes who has sold over four million records with The Ballad of Davy Crockett and is also the long-time star of TV's Days of Our Lives along with iconic jazz pianist Dick Hyman, creator of over 100 albums, winner of seven Most Valuable Player Awards from the National Academy of Recording Arts and Sciences, scorer of over 15 Woody Allen movies as well as "Moonstruck", "Billy Bathgate", "Two Weeks Notice" and many others created an evening of magical musical moments.
See the review in the Herald Tribune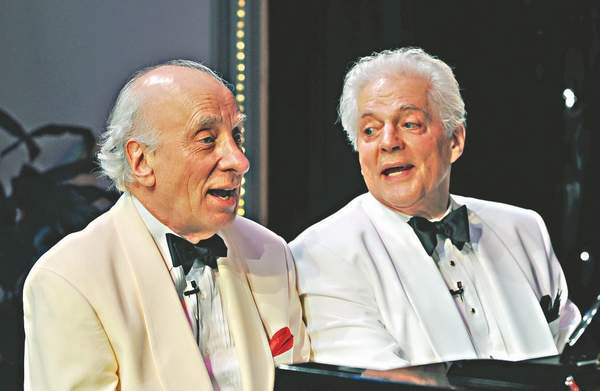 Photo Courtesy of Cliff Roles Photography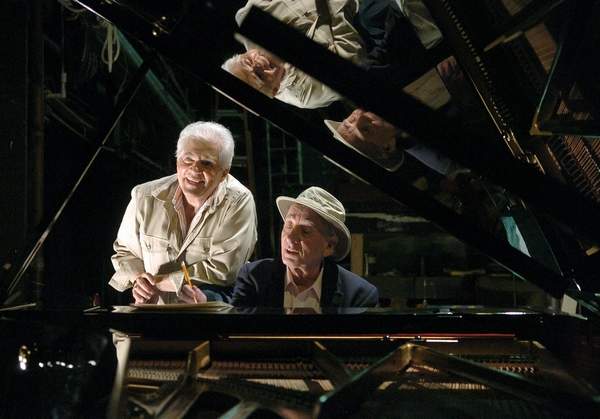 Photo Courtesy of E. SKYLAR LITHERLAND
Four Decades of Doug: A Tribute to Bill Hayes
Jason has done it again!! This is a wonderful tribute to Bill and all his charisma which has added to making his character so compelling on Days as well as throughout his career! Enjoy!
"After high school, Hayes was training to be a fighter pilot and about to go overseas when World War II ended in 1945. After the war, Hayes finished his schooling and graduated from DePauw University in 1947. In the summer of 1947, his younger brother Phil had a singing audition scheduled, but on the day of the audition, Phil had laryngitis. So, Bill decided to take his brother's place and did the audition himself. He was hired on the spot, thanks to his good singing voice (and thanks to his brother's laryngitis)! Throughout the next 23 years, Hayes would become a household name. He was a featured singer for many years on "Your Show of Shows" and appeared in tons of Broadway musicals and plays. In 1955, he sang "The Ballad of Davy Crockett." The song became a # 1 hit on the music charts for five weeks from March-April 1955."
"On February 5, 1970, Bill Hayes taped his first episode of "Days of Our Lives." He was playing the role of Brent Douglas, a con man who ended up sharing a prison cell with Bill Horton. The episode aired on February 18, 1970. Originally hired for just a few weeks to be Bill's cellmate, "Days" quickly signed Hayes to a contract a month later. In the storyline, Brent was released from prison and hired by Susan Martin to break up Julie Olson and Scott Banning. He started using the alias Doug Williams and, instead of just breaking up Julie and Scott, he also fell in love with Julie. Through many trials and tribulations, Doug and Julie were finally married on October 1, 1976. Although they would get divorced several times over the next few decades, Doug and Julie were always true soulmates, and they married for good in Switzerland in 1993."
"While Doug was romancing Julie on "Days", Bill was romancing Julie's portrayer, Susan Seaforth, in real life. Bill and Susan were married on October 12, 1974, and their characters were married less than two years later on-screen. The Hayes' celebrated their 35th wedding anniversary in October 2009. In January 2010, Bill appeared in his 2,000th episode of "Days", joining a select few to have done so throughout the history of the show. Here's to many more years of happiness to both Bill & Susan and Doug & Julie!"
Click here for a magical trip down memory lane!! Thank you, Jason!!

CONGRATULATIONS, BILL!!

Thanks to WeLoveSoapsTV editor Damon L. Jacobs for the following wonderful interview with Bill and Susan!
Traveling...

Had a great visit, and lunch, with Bill and Susan in ID on their long drive around the states! Bill even did some homework on my husband's relative so he was pleased as well! They are very friendly and we're looking forward to next time!!
Thank you so much, Bill and Susan. We'll never forget it!
Hey Kids! Just got back from a fun trip to LA and a lovely visit with the always delightful Bill and Susan! They are doing great and just enjoying life! They also have a new fan in my niece, who had the best time with them, as you can see!
Thanks Bill and Susan, as always a fantastic visit!

Bet you also didn't know that in 1964,
along with actors John Payne, Victor Jory, and Colleen Gray,
Susan testified before the United States Congress as part of "Project Prayer",
arguing in favor of Constitutional amendment allowing school prayer.


Tell us about your book, Like Sands Through the Hourglass
"People are surprised that I am as candid and as funny as I am in the book and by how much my husband and I love each other. How that flows through it so completely. Strangers that don't know either one of us have read it and been very surprised. And people that have known about the Doug and Julie relationship are delighted with the book and aghast at the backstage stuff in it because I put it all in! I couldn't think of any lines better than the truth. Bill Bell is all over the book. He had to be because he was all over our lives. If there was one fairy godfather coming down from heaven to do something for Susan, it was probably Bill Bell. He cast me, then he cast Bill Hayes and then he pulled my mother out of the bullpen of potential writers and said 'I believe you have talent. Let me train you.' Then he cast me in Y&R when Days fired me and gave me love and continued to be a friend to the three most important people in my life."
What's coming up next for you?
"My husband and I are writing another book, a period piece. My editor asked me to go on and keep writing because she said 'I think you have another career' which was more flattering than anything else she could say. I would say that it is a quarter written. My husband and I were just in London doing some research. In London, there is a theater library museum. It is not in London but just outside. You have to go through security then you get to go in and because we were published, we got to go in. You have to send down for it and then an hour later a big red box arrived, heavy with tape around it and you open it up and it's filled with playbills from 1795, 1803, 1807. I was like 'do I need to put on some gloves, and can I take a picture?' then they weigh the box before they give it to you and they weigh it again, to make sure you didn't take anything. My husband and I didn't get up or drink any water for hours! We were there for 7 hours. I was researching this period so I knew many of the actor's names and then read the good reviews for them."
Thanks, Susan!
Read entire story here!


Remember Julie in this stunning red dress during the early 90's? Oh, for the "Good ol' Days!" Thanks Susan, for sending this picture!

Hayes and Hayes appeared at the 11th Annual Los Angeles Times Festival of Books. Free to the public, it offered something for all ages and interests. Every year, it adds up to be America's largest and grandest literary event.
Guess who attended the Book Fair? That's right, another great weekend in Los Angeles and another chance to see Bill and Susan in person for Della! They signed books and spoke with their fans for an hour and I got to chat with them after their time was over. As always, they were so gracious and caring. Even as they were leaving, they still had fans running up to them to talk or take a picture, and each and every time, they stop, talk, listen, and gladly pose for a picture! They are the best! Check out the fun shots of Bill and Susan! Great times, thank you once again!
They did a book-signing in Abilene, TX at Books-a-Million.
T. Childs provided pictures!
Line of fans to see Bill and Susan


Susan takes a picture of the line!

New Fans Speak!
The following was posted in our guest book and we felt it was worth seeing by everyone!
"We recently had the pleasure of sailing with Susan and Bill on one of their Crystal Cruises and the good fortune of being assigned to their table for the length of the cruise. They are two of the nicest people you could ever hope to meet--genuine, intelligent, funny...and very much in love.
Since we hadn't gotten hooked on soaps in the past, we didn't have a clue at the start of our cruise just how lucky we were to be able to get to know them this way. We looked forward to every one of their presentations, which were presented with grace, style, wit, respect for their craft, and affection for their fans. It is easy to see how they have developed such a devoted following, both on Days of Our Lives and in "real life."
When we returned home, I went to the Internet to read all about Bill and Susan and was pleased to see so much information about them, especially the excellent site I found at https://members.tripod.com/~Hartlee/index.html. It was very satisfying to know that our new friends are recognized for being the wonderful people they are.
We have many fond memories of our cruise--but none better than the pleasure of getting to know Bill and Susan.
During our cruise, Susan was contacted to arrange a taping of an episode of Days of Our Lives. Since the taping was scheduled for July 1, the air date will probably be around July 15, two weeks later. (It actually aired August 3rd and 4th and Susan looked positively fabulous!)
At the risk of getting hooked as a new fan, I have to join the chorus of those who say "BRING BACK DOUG AND JULIE!"
---
Great News!
Bill's latest CD, dedicated to Susan, is brilliant and sales are soaring!! The arrangements are flawless. The variety of tunes is wonderful in that it compliments his range of music, from opera to Broadway to rock to ballads. His performance of each piece is perfect. There must be nothing he can't sing! And Susan's photography for the liner notes is excellent! Susan's comment on the new CD?
"I fell in love all over again!"
You may listen to clips from this CD, read Bill's bio, which is full of unknown facts, purchase photos, and the CD here.
---
Elizabeth Harrower Seabold was the mother of actress, Susan Seaforth Hayes and mother in law to actor Bill Hayes. When we saw the eulogy Susan had written for her mother's memorial service, we asked to put it on our website to share with the world what a fabulous person Elizabeth Harrower Seabold really was.
Early Edition's...
tribute to Doug Williams and Bill Hayes was beautiful. They also included Julie in the tribute because it's never just been Doug; it's never just been Julie; it's ALWAYS been, Doug and Julie. Thank you Barb, Laney, and Linda for this special tribute and the link back to our site!
---
Remember this? The only soap opera couple ever to have appeared on the cover of Time magazine--
Bill and Susan!
This from an Early Edition poll for favorite couples:

DOUG & JULIE WILLIAMS
Soap couples don't come any better than this. Married, divorced, then married again, Doug was also married to Julie's mother and fathered Julie's half-sister, Hope. And now Hope is also Julie's step-daughter. Confused? What we can't be confused about is what a super couple Doug and Julie form, and how likable each of them is alone, and how great they are when put together. Their love has withstood the test of time, and having them still around in Salem today is wonderful! We're never quite sure if we're voting for "Doug and Julie" or honoring and congratulating Bill and Susan for their many years together...either way, this real-life married couple represents a bond so deep and true that through the actors' devotion and passion...their characters' write their own storyline with just a gaze into each other's eyes...they are simply too good together...they never seem to be acting in front of a camera. They are the only soap couple to have appeared on the cover of Time Magazine, and many feel Days was put on the map with that cover. Who can resist a love that has lasted for SO long and through SO many travails? Who can forget all of Doug's serenades to his fair lady? And it ended up in a REAL love that has lasted forever. They're gorgeous, they're sexy, and they're SO in love. She's wacky and he's just a sort of go-with-the-flow kind of guy. They compliment each other very well. They both would do anything for you and each has a heart of gold. Thus the feeling by so many, that Doug & Julie should be the next matriarch & patriarch of Days of Our Lives.
We couldn't agree more!! Thank you Barb, Laney, and Linda!!
---
Copyright Disclaimer Under Section 107 of the Copyright Act 1976, allowance is made for "fair use" for purposes such as criticism, comment, news reporting, teaching, scholarship, and research. Fair use is a use permitted by copyright statute that might otherwise be infringing. Non-profit, educational or personal use tips the balance in favor of fair use. This page is in no way affiliated with NBC, Corday Productions, Days of Our Lives, the AP, or Sony Television. All characters, locations, storylines, etc. are the property of, and copyrighted by, Corday Productions. Anything we have written is copyrighted by this announcement. All information on our page is from our memory and anything not written by us, we hereby give credit to and is copyrighted to the Author. Sources for pictures are copyrighted by the original sources of the pictures, and music by ASCAP. If you wish to use something from this page, please ask and give us credit for it. This page is for information and entertainment only, and no infringement is intended. Like you, we are fans and we do not in any way profit from this page.

Please visit us again, soon!!
LANA and DELLA